Red Tractor (RT) has announced all vets registered on its pig assurance scheme must be members of the Pig Veterinary Society (PVS).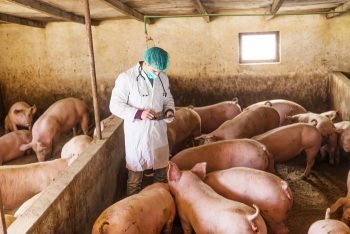 The change – which takes effect from 1 October – has been announced as part of RT's standards review, with PVS membership only previously required for vets carrying out so-called "Real Welfare" assessments.
Strengthened
Many changes included in the review, said RT, focus on the responsible use of antibiotics, with a number of the animal medicine standards being strengthened.
The requirement for PVS membership, it said, is in line with another new standard, which will require vets to declare they only prescribe antibiotics for use on RT pig units in accordance with PVS' prescribing principles for antimicrobials.
Informed
RT technical manager Joanna King said: "Ensuring every RT-registered vet is a PVS member will help keep them abreast of the most recent version of the prescribing principles, along with other guidelines and publications."
Assessors undertaking RT farm assessments can verify whether the retained farm vet is a PVS member through his or her membership number, which is required on the quarterly veterinary report forms.