The Animal Health Trust's hydrotherapy team is celebrating a number of achievements as 2012 draws to close, from record case numbers to an educational award.
The Animal Health Trust (AHT) is celebrating treating a landmark number of cases at its new hydrotherapy centre.
The purpose-built centre also hit its first birthday earlier this month (December 2012).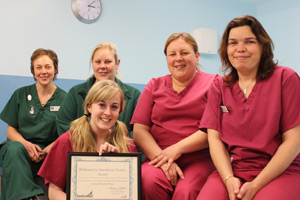 Jo Handley-Howard, AHT's head of hydrotherapy, said: "We have treated 700 cases this year – a number we're particularly proud of given everyone in our hydrotherapy team also has other nursing duties to fulfill in order to help many other AHT patients who need our care.
"We're all looking forward to helping even more cases back onto the road to recovery in 2013." 
The AHT has provided hydrotherapy services for cats and dogs since 2005, however, in December 2011 it opened the doors of its state-of-the-art dedicated centre, which houses a hydrotherapy pool and water treadmill.
Jo's team was also awarded with a "dedicated to excellence" certificate from the Hawksmoor training centre, recognising their efforts to gain hydrotherapy qualifications.
She said the award was now on proud display at the centre.
She added: "This year, the whole team has undergone further training to keep us up to date with the latest techniques being developed and advised, which has earned us the dedicated to excellence award."
For more information about the AHT's hydrotherapy centre, visit the trust's website.