The RCVS president, Professor Sandy Trees, will give the WooldridgeMemorial Lecture at the BVA Annual Congress on September 25 on thetopic "What exactly is a vet?"
The theme of the BVA Annual Congress will be "Together forever?"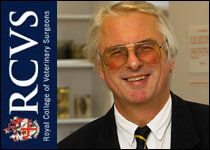 Events will include a lecture on ophthalmology aimed at non-specialist practitioners and recent graduates by former RCVS president, Sheila Crispin. Further, the chief veterinary officers of each of the devolved administrations will discuss questions of animal welfare within a devolved administrations context.
Professor Trees said: "Vets have a wide range of knowledge and skills which can and should enable them to make a contribution to many of the wider problems facing our global society."
BVA Congress will run from September 24-26 at the Mecure Holland House Hotel, Cardiff.
For more information or to register please visit www.bva.co.uk/congress.