Voting has opened for the 2016 RCVS council elections – and hopes are high of another bumper turnout.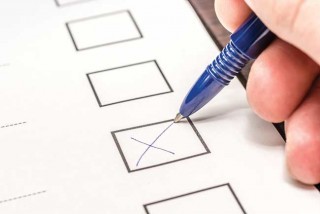 Last year saw the highest number of votes ever cast with 4,838 veterinary surgeons, or 18.1% of the profession, voting online or by post.
Ballot papers with candidate details, biographies and manifestos have been posted to all veterinary surgeons, with eight candidates standing for election this year. The six candidates who receive the most votes will begin their four-year term on council at RCVS Day on 15 July.
Video questions
The candidates have produced a video in which they answer two questions selected from those submitted to the RCVS in advance by members of the profession. They are available to view, alongside contact details, biographies and manifestos, via the links below.
RCVS president Bradley Viner said: "Last year, the candidate videos had more than 3,500 views and we hope to increase that this year, as it is a very direct and democratic way of finding out more about each candidate and their views.
"I would urge each member of the profession, whether vets or veterinary nurses, to make a vote for their preferred candidates as they really can make a difference when it comes to the future direction of the college."
All votes must be cast, either online or by post, by 5pm on 29 April. Vote online at www.ersvotes.com/vetvote16.
Candidates
The eight candidates are: