The RCVS has bestowed honorary fellowships upon two of the highest-achieving members of the veterinary profession at its RCVS Day at the Royal College of Physicians on July 6 2012.
The Royal College of Veterinary Surgeons (RCVS) has bestowed honorary fellowships upon two of the highest-achieving members of the veterinary profession.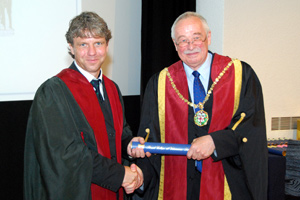 The fellowships – awarded on RCVS Day at the Royal College of Physicians on July 6 2012 – were given after the RCVS deemed the two members of the college to be "far-exceeding" expectations.
The first fellowship was awarded to Thomas Hildebrandt, head of the department of reproduction management at the Leibniz Institute for Zoo and Wildlife Research in Berlin.
Dr Hildenbrandt has been a scientist in the area of large zoological animal research since he qualified from the Free University, Berlin, in 1992. He has also contributed to elephant and rhinoceros reproductive biology throughout his career.
Speaking of Dr Hildebrandt's achievements, outgoing RCVS president Jerry Davies said: "Using the very latest ultrasound equipment, Thomas has been able to develop transrectal ultrasound examinations followed by intrauterine artificial insemination, and successfully apply this method, resulting in the generation of over 30 elephant births in zoos throughout the world – a truly outstanding and unique achievement.
"This includes the first elephants born in captivity in Australian zoos for over 100 years."
Receiving his fellowship, Dr Hildebrandt said: "I am extremely honoured by this award.
"I would like to use this opportunity to thank professor Peter Shaw who inspired me in my work with elephants. He wrote the book [Reproduction of Mammals] which was one of the few foreign books in the east German library in which I worked as a student. This book had a lot of questions I tried to answer in my life, and I think it was this inspiration [that led to my career]."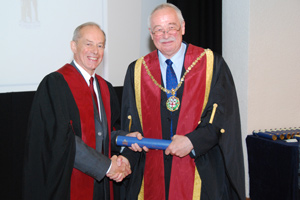 Winning the second elected fellowship was Lance Lanyon, visiting professor at the University of Bristol and professor emeritus of the University of London at the RVC, who has been regarded as an outstanding leader in the field of veterinary education.
Dr Davies said of Prof Lanyon's career: "During his 15 years as principal of the RVC the college achieved independent funding from the Higher Education Funding Council for England. His vision and energy used this independence to increase undergraduate student numbers from 70 to well over 200; clinical residents from two to over 45; to introduce the veterinary nursing degree; to greatly increase the caseload and, last but not least, to enhance research performance.
"These developments, among others, took the RVC to a new level in terms of size, diversity and international reputation."
However, in receiving his award, prof Lanyon was not so acquiescent.
"In fifteen years as principal of the RVC, I attended numerous RCVS council meetings and sub-committee meetings and I have tried – unsuccessfully, I have to say – to recall those as incidences that were informed by wisdom and characterised by good judgement.
"Therefore I find it difficult to really assess the value of this great honour that you have bestowed on me, and think it is probably best to take it at face value as a great honour awarded by my peers.
"Thank you very much."
An honorary associateship was also bestowed upon Douglas McGregor, medical clinician and emeritus professor of immunology at the College of Veterinary Medicine at Cornell University, New York, but he was unable to attend.