Blacks Vets in Dudley, West Midlands has been voted "Best UK Vets" by the pet owning public for the second straight year.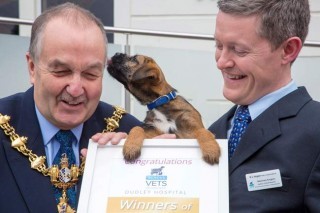 Run by veterinary advice website Vet Help Direct, the award is presented to the British veterinary practice given the most four-star or five-star online reviews by their clients.
Sweeping the board
Not only did Blacks' Dudley hospital take the 2016 title, the practice's Lye and Sedgley branches took second and third place, while sites at Oldbury and Quinton came fifth and eighth, respectively.
Managing director Tracey Morley Jewkes said: "We are overwhelmed to receive this award for a second time – this is the one that really matters to us because it is voted for by pet owners.
"We do not know what clients really think until we are sent the review via the Vet Help Direct team, which read each one and carry out checks too.
In the know
"We have used this to help us measure client satisfaction levels – we know giving a great client experience is the key to giving great veterinary care to our local community, so we must keep our finger on the pulse of their thoughts.
"As you can imagine, to have such a high number of four-star and five-star reviews has blown us away.
"We could not be more proud of our team or more grateful to our clients and their pets for giving us the privilege of taking care of them."