Should veterinary surgeons in first opinion practice be offered pre-exposure rabies vaccination? BSAVA president suggests a review of Government guidelines.
The British Small Animal Veterinary Association (BSAVA) has suggested the recent discovery of rabies in the Netherlands should prompt a review into whether veterinary surgeons should be offered subsidised pre-exposure rabies vaccination.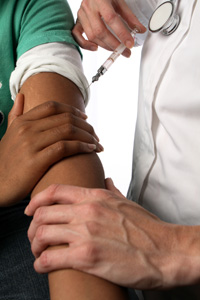 The two infected puppies were imported from Bulgaria on October 5. However, reports indicate that both animals were microchipped and travelling under the Pet Passport scheme – suggesting vets should be alert to the possibility of disease with any imported animal.
BSAVA president Michael Day said: "While we have been concerned about the issue of illegal imports and the enforcement of the current legislation, this latest incident also raises the possibility of rabies cases in dogs that appear to comply with the current pet passport regulation."
Professor Day said the situation also called into question whether veterinary surgeons in first opinion practice should be offered the pre-exposure rabies vaccination.
According to the BSAVA, current recommendations from Public Health England are that all individuals at continuous and frequent risk of exposure to the rabies virus, as well as some groups at infrequent risk, should be offered pre-exposure rabies vaccination.
Prof Day said: "While veterinary surgeons in companion animal practice are not currently included in this list, this might be a timely point to undertake a review based on a new risk assessment. I would be in support of practitioners who believe they are at risk having the option of the subsidised occupational vaccination."
 
Note: Responsibility for dealing with illegal imports rests with local authorities. However, if a veterinary surgeon in practice has any suspicion of rabies or any other notifiable disease they should inform their local Animal Health office.