The RVC has strengthened its ongoing educational twinning project with the Jordan University of Science and Technology (JUST) by welcoming a delegation to its London headquarters.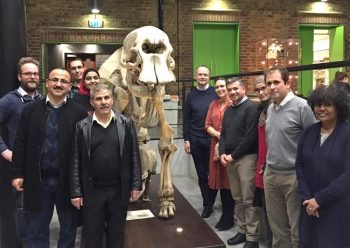 The project, which is sponsored by the World Organisation for Animal Health (OIE), aims to develop the teaching expertise of faculty from both institutions through:
mutual visits
official communication
research projects
integration with joint specialist workshops in different areas of veterinary medicine
Group effort
It includes the participation of the Ministry of Agriculture for Jordan and experts from the Arab world.
The project focuses on undergraduate and postgraduate teaching and professional development, and has funded a number of grants for graduate students from both universities.
A regular exchange of undergraduate students and teaching faculty members has also taken place.
Well-toured
While in the UK, the party also spent time in the Queen Mother Hospital for Animals, at the RVC's Hawkshead campus, and the Beaumont Sainsbury Animal Hospital at Camden.
An RVC delegation plans to meet colleagues in Jordan in the autumn to continue to develop the project.
RVC principal Stuart Reid said: "The RVC is very proud to be an integral part of the further development of veterinary education in Jordan and the Middle East with our international partners and the essential support from the OIE.
"The RVC-JUST Twinning and, in particular, the 10 twinned masters students speaks directly to our one health agenda and the fact we are very much open for business on an international stage."