The British Equine Veterinary Association (BEVA) welfare award 2009,sponsored by The Blue Cross animal charity, was presented toJosh Slater at the 48th BEVA Annual Congress in Birmingham on September 11.
The award, which was introduced by BEVA in conjunction with The Blue Cross nine years ago, is a formal recognition of significant contributions made by veterinary surgeons and others to equine welfare. It was presented to Professor Slater by Kerstin Alford, director of equine welfare at The Blue Cross, in recognition of his important role in developing the Emergency Services Protocol, now known as Safer Horse Rescues.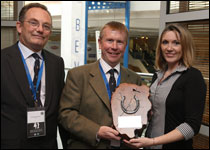 Kerstin said: "Professor Slater has been the driving force behind the Emergency Services Protocol, which sets a national standard for all those involved in large animal rescue. It will have a valuable impact on the rescue and rehabilitation of horses and ponies throughout the UK by helping to minimise suffering and maximise chances of a positive outcome.
"We are delighted to recognise Professor Slater's achievements with this award."
Josh Slater is Professor of equine clinical studies at the Royal Veterinary College and the director of the college's equine referral hospital. He is a diplomate of the European College of Equine Internal Medicine and has active research interests in infectious respiratory diseases. He has recently been instrumental in the development of a surveillance protocol for equine endemic diseases.
Safer Horse Rescues is a nationwide initiative involving vets, the Highways Agency and emergency services. It was set up in 2007 following a number of incidents of horses dying slow, painful deaths following accidents or after becoming trapped. In addition to introducing the protocol Professor Slater has helped to develop training courses for vets and fire fighters involved with horse rescue.
Photo courtesy of Patrick Walker