The presidents of the BVA and BSAVA have appeared at the House of Commons to give the veterinary profession's view on the Government's dog control and welfare policies. Find out what they had to say…
Legislation on dog breeding must be updated to ensure the future health and welfare of dogs and puppies, and the Advisory Council on the Welfare Issues of Dog Breeding should become a regulatory body, veterinary associations have told the Environment, Food and Rural Affairs Committee (EFRACom).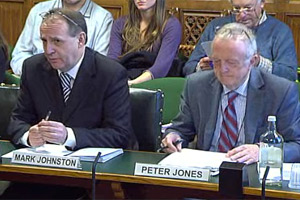 These were the recommendations out forward by the presidents of BSAVA and BVA, who appeared at the House of Commons on Wednesday (October 24, 2012) as part of the committee's inquiry into the Government's dog control and welfare policies.
Commenting after the session, BVA president Peter Jones said: "The dog advisory council, chaired by Sheila Crispin, is doing a huge amount of good work already. But at the moment it can only give advice and we believe it should be made into a regulatory body for dog welfare.
 
"[And], while we recognise the good work that the Kennel Club's Assured Breeder Scheme is doing, this only affects a very small percentage of the puppies born every year in England. We need to look beyond the KC scheme and ensure there is a robust registration scheme for all breeders that insists on minimum requirements in order to stamp out unscrupulous breeding practices."
The session also covered the veterinary profession's role in improving dog welfare.
BSAVA president Mark Johnston said: "The veterinary profession is doing a lot to highlight dog welfare issues but our frustration is that by the time someone comes in to the veterinary surgery with a new puppy it's too late to tell the client that they may not have made the best choice.
 
"Education has an important role to play but this must also be backed up with strong legislation and a dog advisory council that has teeth and resources."
The session also covered:
the registration of puppies with the Kennel Club;
line breeding, out breeding and the coefficient of inbreeding;
veterinary checks at dog championship shows;
breed standards;
availability of research and data;
the extent of puppy farming; and
the sale of puppies on the internet.
The fifth and final session of EFRACom's inquiry is to take place on October 31, 2012 and will question Lord de Mauley, the parliamentary under-secretary at DEFRA for resource management, the local environment and environmental science and Sue Ellis, deputy director of the department's animal welfare team.
After that session EFRACom will draft a report of its findings, which should, according to a spokesman, be published before Christmas. The Government will then have two months to respond.
To view the entire session, visit the UK Parliament website.
Image © EFRACom/UK Parliament