A small animal and pony re-homing centre based in Thurrock, Essex, has been awarded £500 in this month's Petplan charity prize draw. Centre workers said the boost came at a "brilliant time" for the branch.
An Essex-based welfare centre has received a £500 boost after winning an insurer prize draw.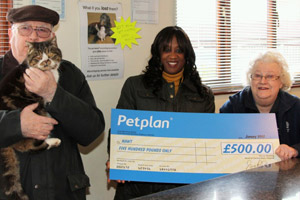 The Thurrock branch of the National Animal Welfare Trust (NAWT), which opened in 1977 and works to rehome small animals and ponies, was awarded the money by Petplan earlier this month.
NAWT branch manager Gloria Abbot said the win was a lovely surprise.
"As a charity we believe that no healthy animal should be destroyed and work towards rehoming as many as possible," she said.
"This month has been expensive for vets fees, with two dogs needing dental treatment, a knee x-ray, dumped kittens with conjunctivitis, a young cat with cystitis and the normal neutering.
"The win has come at a brilliant time, thank you so much Petplan!"
Petplan head of marketing Isabella Von Mesterhazy added: "We are pleased to be able to provide this donation to the Thurrock branch of the NAWT, they do a fantastic job caring for dogs in the community."
As part of its charity support, the insurer offers four weeks free cover for pets adopted through the shelters it supports and also offers free insurance vouchers to visitors and supporters of the charities.