The Princess Royal was among guests when two Queen's Awards for Enterprise were presented to Hallmarq Veterinary Imaging.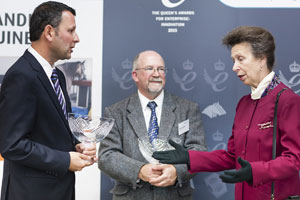 Hallmarq, based in Guildford, Surrey is one of only two companies this year to be awarded the Queen's Award for Enterprise in two categories.
The innovation award recognises the equine standing MRI (EQ2) developed by Hallmarq, which has changed how vets approach the diagnosis of lameness in horses.
The international trade award reflects the company's global success with the EQ2, which is now used in 23 countries, across five continents.
The princess was introduced to staff and was shown how the scanners are manufactured – from components under construction through to a fully working system.
The deputy lieutenant of Surrey, Shahid Azeem, formally announced the awards. The princess presented the engraved rose bowl for the innovation award to Hallmarq's founder director Nick Bolas, and the bowl for international trade to operations and technical director Steve Roberts.
Hallmarq is also developing a 1.5T PetVet MRI scanner, designed for the small animal veterinary specialist.