The veterinary anaesthesia team at the University of Liverpool arecelebrating after winning the prestigious Sir Alastair PilkingtonTeaching Award in recognition of innovation and teaching excellence.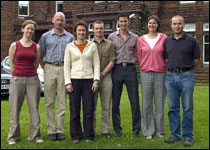 The awards, named after the university's former chancellor, are made annually in two categories: Excellent Teaching Innovation and Sustained Teaching Excellence.
Mark Senior, head of the anaesthesia division, told Vetsonline: "These prestigious awards are highly prized within the University as, not only do they bring £1,000 of prize money to spend on teaching, they are highly regarded by our peers."
According to Mr Senior, the anaesthesia team was nominated for the award in recognition of the innovative approach it had introduced into its lecture course.
He explained: "For the past two years we have sought to move away from the traditional didactic lecture approach and introduce a course that is integrated to involve a few didactic lectures but concentrate more on using lecture time to have case discussions, problem solving and interactive sessions. There is evidence that students learn better using these approaches."
The team members who taught on the lecture course and received an award were (pictured above, L-R) Ellie West, David Bardell, Martina Mosing, Paul MacFarlane, Matt Gurney, Isabelle Iff and Mark Senior.