Practices are being urged to warn owners about the stress and anxiety of fireworks as November 5 approaches.
According to statistics, more than 700 animals were harmed by fireworks, with hundreds more going missing or left scared by loud noises.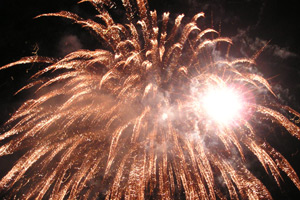 Among those recommending advice to owners is Julian Peters, owner of the Arthur Lodge Veterinary Group in Sussex and Surrey. He said it was important that pet owners took simple measures to ensure their pets remained safe and happy.
He said: "Many owners are not aware that the majority of animals are petrified by loud noises. But there are some simple things that owners can do to alleviate any stress.
"The main piece of advice that I can give is to ensure that noise is kept to a minimum by closing all doors and windows, and shutting the curtains. It's a good idea to put the radio or television on to drown out the noise."
He said it was also important that fellow vets advocated animals kept outside were either brought into the house or put inside a garden shed on noisy firework nights, as pets such as rabbits, guinea pigs and birds were easily frightened by loud bangs.
He also believes owners should be advised to ensure that animals are tagged, in case they run off, and be prepared that their animals may seek out hiding places in the home. He also feels they should be treated to more exercise than normal so they fall asleep before fireworks start.