Minster Veterinary Practice in York is opening a sixth branch in an effort to help clients beat the city's traffic jams.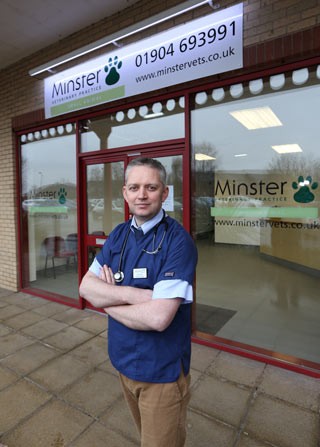 Minster has taken over the lease of a unit at Tower Court Shopping Arcade at Clifton Moor and is set to open the surgery on 29 February.
Work to convert the unit began in November 2015 and has included the creation of two consulting rooms, a waiting room and a spacious reception area.
Congestion beater
Clifton Moor is halfway between Minster's main practice on Salisbury Road and its Haxby surgery, and the new branch will aim to help clients avoid rush-hour traffic congestion.
Minster veterinary director Rob Williams said: "York traffic is particularly bad at the time of day when there is client demand for morning and evening appointments. Our new branch will be very convenient for existing clients and will cut their journey times."
Doorstep delivery
He added: "New houses are also being built in this area, so the surgery will serve new residents moving into the area, who will have a vets on their doorstep."
Any pets treated at the new branch requiring surgery or further treatment will be sent to Minster's Salisbury Road hospital, where there are operating facilities and more hi-tech veterinary equipment.
Minster has invested £30,000 in the new site, which was previously a flooring shop.
Mr Williams said: "We identified Tower Court was an area that would complement our existing practices. It will be very convenient for clients and staff moving between all of our sites."