A vet and her colleagues are taking on a walk for charity after she was diagnosed with breast cancer.
Anne Lawson knows the importance of quickly assessing "lumps and bumps" in her patients, so when she noticed a small lump in her own breast, she had it checked out straight away.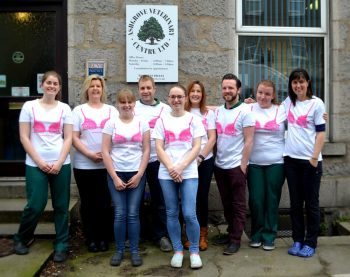 Doctors identified a 7mm tumour and diagnosed grade two ductal carcinoma, before performing targeted surgery to take out the affected area and some of the surrounding lymph nodes, followed by four weeks of radiotherapy.
Walk the Walk
When the 45-year-old mum told her colleagues at Ashgrove Veterinary Centre in Aberdeen she had breast cancer and asked them not to send flowers, they instead were determined to organise something positive to help breast cancer charity Walk the Walk.
Now, Mrs Lawson and a team from Ashgrove are in training to tackle MoonWalk Scotland – a 26.2-mile Walk the Walk event taking place in Holyrood Park, Edinburgh on Saturday 10 June.
Safari theme
Mrs Lawson, who is also a Practice Standards Scheme assessor for the RCVS, hopes to get back to work on 1 June and said she was a bit tired, but otherwise feeling great.
She said her team members were looking forward to decorating their jungle safari-themed bras, which she hopes will feature some unusual animals.