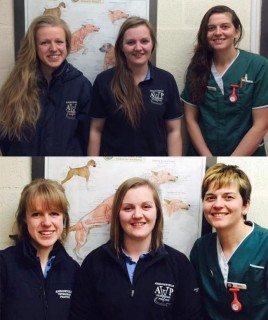 A trio of veterinary staff have had their hair cut off in the name of charity.
Vets Chloe Graham and Amy Peel, along with veterinary nurse Emma Palmer – all of Arrowfield Veterinary Practice in Kington, Herefordshire – went for the chop to raise funds for the Little Princess Trust.
The charity provides real hair wigs to boys and girls across the UK and Ireland who have lost their own hair through cancer treatment.
Between them, the three donated around 2.2kg of hair to the cause.
Confidence boost
Mrs Palmer said: "I've known for a long time I wanted to donate my hair to the Little Princess Trust and having Chloe and Amy join me made me confident enough to go ahead with it."
The trio aimed to raise £350, but have since smashed the target, with the online total standing at more than £900.
For more information and to donate, visit the trio's JustGiving page.