The Tiverton Hunt Pony Club in Devon is the first branch to haveawarded the brand new Blue Cross Welfare merit badge to branch members.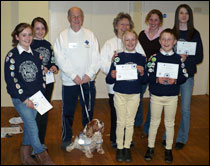 Five Tiverton members received the merit badge, demonstrating a thorough knowledge of equine welfare by achieving 10 Pony Club badges, which involve the responsible care and management of horses and ponies.
A further 200 badges have already been ordered by other Pony Clubs around the country, showing the high level of commitment to the charity and to equine welfare education.
The Blue Cross merit badge for Pony Club members was introduced earlierthis year as one of a number of educational initiatives for childrenorganised by the charity.
Emily Wotton of Tiverton Pony Club said: "We believe that successfully taking these 10 badges shows an excellent understanding of equine welfare. We are thrilled that Tiverton Pony Club is the first branch in the UK to have awarded the badges. It's a great incentive for our members to show their commitment and prove their knowledge of equine welfare, in association with such a highly regarded animal welfare charity as The Blue Cross."
For details of the new Welfare Merit Badge see www.pcuk.org , call 02476 698300 or email jenny@pcuk.org .
For further information on The Blue Cross education activities visit www.bluecross.org.uk , telephone 0845 230 1672, or email kerry.doyle@bluecross.org.uk