Pickle the baby penguin has taken his first steps into water at London Zoo. The 10-week-old Humboldt plays a role in a European-wide breeding programme.
Most baby penguins take their first dip under the watchful eye of mum.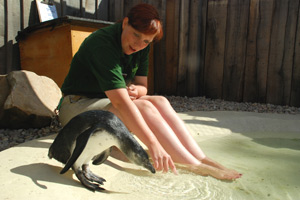 But for 10-week-old Humboldt Pickle, things were a bit different when he got his feathers wet at London Zoo earlier this week.
Instead of his mother, Pickle had to make do with keeper Vicky Fyson, who was on hand to ensure her young charge enjoyed a happy debut dunking.
After being lowered into a shallow training pool, Pickle was soon splashing around, but it looks like he might need a few more lessons before joining the adults in the big pool.
Vicky said: "Pickle has lost almost all of his fluffy baby feathers now and he's nearly ready for his debut in the big pool.
"At the moment he just splashes about quite a bit, so he will be staying in the training pool until he has mastered his swimming technique."
Pickle was hand-reared by keepers at London Zoo and is expected to go on to become an important part of Zoological Society of London's breeding group.
The Humboldts at London play a vital role in the European-wide breeding programme, helping to ensure the survival of a species classed as vulnerable by the International Union for Conservation of Nature.