Pfizer Animal Health has announced the return of Rimadyl Granules for horses, which means, the company claims, it now offers the only licensed injectable and oral carprofen combination for horses.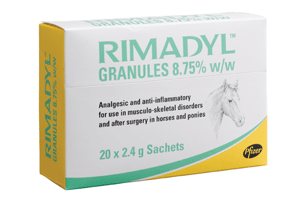 NSAID Rimadyl, which has analgesic and antipyretic properties, is indicated for use for musculo-skeletal disorders and after surgery in horses and ponies.
For the past seven years, due to licensing and manufacturing issues, Rimadyl has only been available as an injectable solution for horses. The newly re-introduced granule format can be mixed with feed, for what Pfizer describes as the convenient continuation of a course of medication orally, following the initial injection.