A new PETS-approved border inspection scheme at Edinburgh Airport allows Scotland-bound returning pets to fly straight to Scotland rather than detouring to London.
A new border inspection post has been opened at Edinburgh Airport for pet owners who want to fly their pets directly back to the country after being taken on holiday.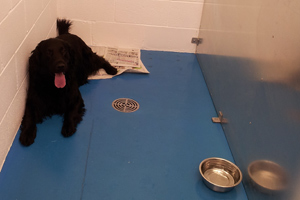 In the past, any Scots wanting to take their pets abroad have been required to fly them back via airports in Manchester and London – the only animal centres in the UK previously approved under the PETS scheme.
But with the opening of the new post flying pets destined for Scotland can now avoid the detour.
Edinburgh Airport CEO Gordon Dewar said: "More than 9 million passengers travel through Edinburgh Airport every year. We know it's been an inconvenience for passengers to have to travel to England first so we've set up Scotland's first small animal border inspection post."
The animal centre is being operated by Edinburgh-based freight forwarding specialist Extrordinair.
 
Company founder and managing director Sylvia Fleming said: "Our new facility at Edinburgh Airport means that animals flying into Scotland can be reunited with their owners within hours of touchdown, provided they have a valid Pet Passport or EU third country Health Certificate and comply with DEFRA regulations.
"The service makes things much easier for owners and for pets, as a prolonged period of travel or separation in a strange environment can cause them stress."