Royal Society for the Prevention of Cruelty to Animals says there is "no sign that the Government is listening" despite petition being signed by more than 258,770 people.
The Royal Society for the Prevention of Cruelty to Animals (RSPCA) has announced a petition against the Government's impending badger cull has reached a record number of signatures, as it called for "greater transparency" on the humaneness of culling methods.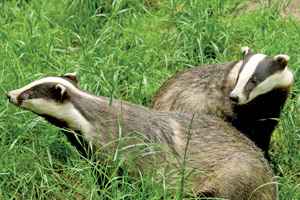 More than 258,770 people have added their name to the number 10 e-petition protesting plans to shoot badgers as a way of combating bovine TB (bTB) – making it the best supported of its kind.
Despite the petition's impressive success, the cull – which began in June (2013) – continues in the pilot areas of West Gloucestershire and West Somerset, and will do for six weeks every summer, with the aim of reducing badger populations in the areas by at least 70%.
The RSPCA also believes the Government is yet to make public the details of how it will be measuring the "effectiveness and humaneness" of the cull.
RSPCA chief executive Gavin Grant said: "The public has spoken out once again.
"This has now become the biggest ever number 10 petition, with nearly 260,000 voices against the cull. While this is wonderful, there is as yet no sign that the Government is listening. Neither is there any indication the public will be given any information about how the Government will ensure the badgers are killed humanely, and not simply wounded and left to a slow, painful death.
"We care equally about the cows and the badgers, but the imminent killings could mark the start of more than 70% of badgers being wiped out over half the country. In some areas, we could see badgers disappear altogether.
"These widespread killings will simply not solve the problems of bTB in cattle. The only real answer is vaccination for them both, better biosecurity and control of cattle movements."
The e-petition against the badger cull was the fastest growing number 10 petition when it was launched last autumn, with 100,000 signatures gathered in just two weeks.
 
The RSPCA said it is also "outraged" that a decision to extend the scope and scale of the cull seems to have been made before the pilots have been completed. Earlier this month, a 25-year strategy to combat the disease was published by Defra, which detailed plans to roll the plans out to 15 other counties.
The petition can be viewed and signed at the Government's website.