Pet Doctors has stepped in to become the officialsponsor of Littlehampton-based Highdown Saints Football Club Under 12'sB Team for the 2009/10 and 2010/11 seasons.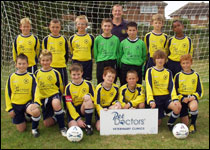 The team, which trains on Saturday mornings at the Flora MacDonald School in Littlehampton, plays in the D Division of the Arun and Chichester Youth Football League.
Highdown Saints is one of the largest clubs in West Sussex and offers mini and youth football to more than 200 players between five to 15 years old. It was the first football club in the area to attain the FA's Chartered Standard status.
Commenting on the sponsorship, Gavin Pitt, who trains the team, said: "We are really grateful that Pet Doctors has chosen to step forward and sponsor the team for the next two seasons, particularly in the current climate. The lads are really pleased with their new match strip. Now we just need to ensure we start getting some results on the pitch."
Garret Turley, managing director of Pet Doctors, which has branches in Rustington, Felphamand others throughout Sussex, said: "We're all increasingly aware of the health benefits of regular exercise, particularly for children. With this in mind, Pet Doctors is keen to show our support for children's sporting activities in the local community.
"We'll be following the team's progress closely over the next two seasons. No pressure then, lads!"