To celebrate the re-opening of the Penguins Rock enclosure, Edinburgh's keepers restart the world-famous penguin parade attraction, thought to date back all the way to 1951.
Penguins at Edinburgh Zoo – including five kings – have been back to their waddling best after the zoo relaunched its much-loved penguin parade.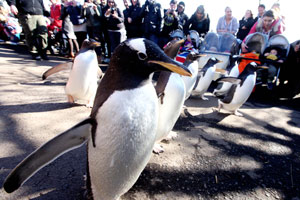 A major attraction at the zoo until early 2012 when the enclosure was closed for renovations, it is thought the parade began in 1951 when a keeper left the door to the enclosure open, letting a gentoo escape. However, instead of capturing the bird, the keeper decided to see what happened. Unusually, it was followed by other penguins, which proceeded to march down the walkway of the zoo to Corstophine Road and back again.
Following a year of non-parading activity, Edinburgh's penguins performance skills were rusty, so they took part in a number of practice runs before performing in front of visitors.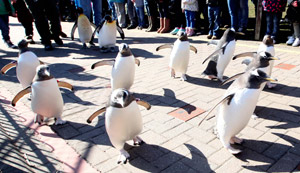 Team leader for birds at the zoo Colin Oulton said: "We have a mixture of both old and new birds taking part in the parade, with as many as 17 birds participating in the practice runs. The practice runs all [went] pretty smoothly; the old pros got back into it right away and the new penguins were enthusiastic to join in.
"Penguins are naturally inquisitive and they enjoy the opportunity the parade gives them each day. We don't force any penguins to take part, or encourage them with food rewards – each penguin participates in the parade purely because it wants to."
The penguin parade takes place everyday 2:15pm at the new enclosure, called Penguins Rock.
For more information, visit Edinburgh Zoo's website.