Researchers at Scotland's Rural College win Ig Nobel Probability prize for unusual and imaginative project which aimed to find when cows were likely to lie down.
Researchers at Scotland's Rural College (SRUC) have won an international science award for a project where they fitted cows with pedometers.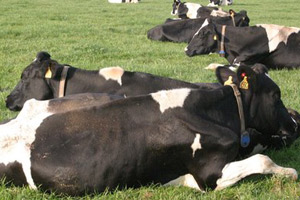 SRUC's Bert Tolkamp, Marie Haskell, Fritha Langford, Colin Morgan and David Roberts won an Ig Nobel Probability prize – which celebrates unusual and imaginative research that "first makes people laugh, then makes them think" – for their paper Are cows more likely to lie down the longer they stand?
The research – which received funding from the Scottish Government – involved the cows wearing non-invasive pedometer-like sensors on their legs that recorded their movements. The results were used to develop a way to understand how the cows' behaviour might reflect their state of health, helping farmers improve how they care for their herds.
However, while the team expected to find the cows becoming increasingly likely to lie down as they became tired due to standing, they actually found cows that had been standing for six hours were as likely to lie down within the following 15 minutes as cows that had been standing for one hour. In addition, some cows spent much more time standing than others.
While the reasons for these variations are not clear, said the researchers, the project identified a scientific methodology for understanding patterns of activity. This is now being used by SRUC and others to assess how the way cows are cared for impacts on their health.
Dr Tolkamp said the team was surprised, but very pleased, to receive the award. He said: "Anything that promotes interest in science is very welcome and we hope winning the prize will give us additional opportunities to explain to other scientists, funding bodies and the public what we are doing and why it is worthwhile.
"As farms get bigger, there is less and less direct contact between farm workers and animals, which might mean later detection of problems. By shedding light on cow behaviour as an indicator of potential problems, our research is providing new opportunities to protect and improve cattle health and welfare."
To read the paper in Applied Animal Behaviour Science, visit the journal's website.