PDSA, the leading veterinary charity, has launched its fifth annual petslimming competition – Pet Fit Club – with the owners of nineoverweight pets having volunteered to take part in this initiative.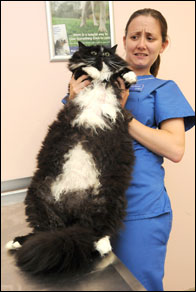 The finalists comprise five dogs and four cats, each of which has been put on individual diet and exercise regimes by assigned PDSA clinicians to help them reach their target weight, and therefore improve their overall health.
Of the nine pets, six are extremely overweight and are 50 per cent or more above their ideal body weight – including Soc (pictured right) who is 10.1kg – more than double his ideal weight (124 per cent!).
Over the last six years PDSA has carried out health check assessments on over 20,000 dogs and has seen an increase of over 10 per cent in the levels of obesity within these cohorts – 28 per cent in 2008 compared to 17 per cent in 2003. This means that in 2003 around one in six dogs were overweight, whereas in 2008 the figure was nearer one in three.
Snapshot surveys of cats attending PDSA PetAid hospitals showed that the percentage of overweight cats has also increased, by about five percent over three years, with the latest figures suggesting that one in four cats are overweight.
In a 2008 survey of dog owners PDSA found that the most common treats given to dogs were leftovers, fatty meats, cheese, pigs ears, chips, biscuits and hot dogs. The survey also indicated dogs were also getting inadequate levels of exercise.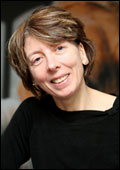 PDSA senior veterinary surgeon, Elaine Pendlebury, said: "Pet obesity seems to be getting worse year on year. Owners have to think carefully about why this is happening, the likely health consequences for their pets and ways to tackle this important health issue.
"Competitions like Pet Fit Club are a way PDSA can raise awareness amongst pet owners of the important issue of pet obesity and the achievable ways it can be tackled. Owners are ultimately in control of what their pets eat and by highlighting that excess food and lack of exercise are causes of obesity, PDSA is helping owners recognise the cause and effect of this important health issue."
She added: "As veterinary surgeons we spend a lot of time talking about the pet obesity problem but with Pet Fit Club, we are offering the participating owners and their pets a real opportunity to make a difference. It will be hard work for them but will ultimately improve the health of their pets."
The winner of PDSA Pet Fit Club will receive a four night pet-friendly holiday at Woodland Cottages, North Devon www.woodlandcottages.org.uk.
Supporters can follow the progress of all nine finalists by visiting www.pdsa.org.uk/petfitclub.