Pet lover Zoe Salmon got tails wagging today as she officially launched the first ever National Petrait Gallery – an online photo gallery showcasing the nation's true love of pets.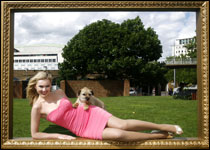 While many people in showbiz say you must be barking mad to work with animals, Zoe is no stranger to working with furry friends and is a huge lover of pets. As a former Blue Peter presenter Zoe worked alongside many of the shows pets including Lucy the golden retriever and Shelley the tortoise.
To encourage people to upload their pet photos to the site ( www.petraitgallery.co.uk ) Zoe stepped into the frame, literally a huge gilt portrait frame, posing with a giant rabbit and a Border terrier puppy. Whilst the giant rabbit made the scene look like something from Alice in Wonderland, Zoe was actually on Londons Southbank in front of the London Eye, a popular dog walking spot in the heart of London.
The National Petrait gallery aims to break the world record for the worlds largest photo exhibition. The site is the pet project of Petplan, the UKs largest pet insurance provider who wanted a novel way to capture the special, and important, role that pets play in modern day Britain.

Zoe said Its great that there is now a dedicated gallery for the nations pet lovers to share photos of their pets as well be part of a Guinness World Record attempt. Its amazing just how many different types of pets there are. Looking through the site I have already seen the obvious cute cats and dogs but there is also a donkey, a skunk and even an ant eater imagine taking that for a walk! Its so easy to upload images, and everyone loves a cute pet photo.
The Petrait gallery is now open for Britain to step forward and show it is truly a nation of pet lovers. The final celebration of the Petrait Gallery will be a public exhibition of every single animal photo. Petplan will need more than 101 Dalmatians to break this world record, the current record stands at 138,355 photos in a gallery… thats a lot of feathers, fur and fun!
Alison Andrew, Petplan's Marketing Top Dog explained the gallery: "We know that pets play a very special role in the lives of our customers. Over the years, we have received thousands of letters and pet photos from policyholders detailing how important their pets are, how they make them laugh, how they have provided real companionship and, in some cases, how they have even saved a life. We wanted to find a unique way to capture how strongly people feel about their pets."