Pet owners on low incomes will become the first in Wales to benefit from a new partnership aiming to ensure their animals still have access to excellent veterinary care despite monetary constraints.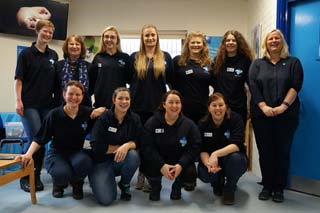 Blue Cross has teamed up with Summerdale Veterinary Centre in Cwmbran, south Wales, to offer discounted treatment for pet owners who are on certain means-tested benefits.
Blue Cross Cwmbran Pet Care Clinic, based at Summerdale Veterinary Centre, will begin to offer low-cost treatment to owners living within local postcode areas from 30 January.
Annual registration
Owners will pay an annual registration fee of £22 per pet, which will cover the cost of annual vaccinations, a health check and any treatment needed if their pet becomes sick or injured.
Neutering and flea and worm treatments are also available at significantly reduced prices at the clinic.
People can register up to two pets per household, including cats, dogs, rabbits, guinea pigs, hamsters and gerbils.
Advice and rehoming centre
The Blue Cross Pet Care Clinic follows the arrival of the pet charity's first advice and rehoming centre in Wales in November. The Blue Cross Newport rehoming and advice unit, which offers advice about pet care and rehoming and free microchipping for dogs, cats and rabbits, has already helped more than 40 pets.
Richard Casey, Blue Cross clinical development manager, said: "We are very excited about our first partnership in Wales with Summerdale Veterinary Centre, which will give peace of mind to pet owners on a low income that their cats, dogs and small furries can be treated if they become sick or are injured."
To find out more and check if you're eligible for discounted vet care at Blue Cross Cwmbran Pet Care Clinic, contact 0300 790 9903 or visit bluecross.org.uk/raiseyourpaw