More than 60 pets were neutered in Cambridgeshire when vets and charities teamed up as part of a multi-agency project.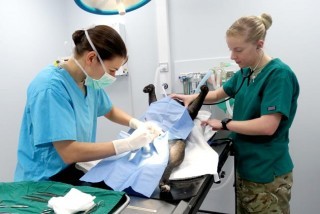 The event saw the RSPCA join forces with Vets4Pets Peterborough, Cats Protection, the Royal Army Veterinary Corps and other veterinary professionals to neuter 56 cats and 10 dogs on 21 February.
Spreading the message
Eight vets, six vet nurses and a team of volunteers were on hand to help at the event. The Royal Army Veterinary Corps sent three vets and a veterinary technician, while clinical staff from Vets4Pets' St Pauls Road surgery and Bretton surgery also assisted.
In total, castrations were performed on 10 male dogs and 37 cats, with a further 16 felines spayed. A further 25 animals were microchipped.
Vets4Pets Peterborough owner Cees Bennett said: "We are always keen to support these events and help spread the message of responsible pet ownership and prevention of unwanted pregnancies."
Big event
RSPCA inspector Justin Stubbs said: "This event was the biggest neutering day we've had in Peterborough. Veterinary staff kindly gave up their time for free to carry out the procedures, and volunteers were on hand to help with the process.
"I'd like to say a huge thank you to everyone involved in this project, which now means there are 66 pets in the local area who will not fall foul of accidental breeding.
"There are thousands of unwanted and unloved dogs and cats in RSPCA centres across the country who are patiently waiting for new homes. We would encourage pet owners to get their animals neutered to avoid more unwanted litters."