Veterinary radiation oncologist Jerome Benoit and the VRCC oncology team have been administering radiotherapy treatment for a soft tissue sarcoma in a 9-year-old red fox called Miss Snooks.
A less experienced radiation oncologist than Jerome Benoit might have been foxed when Miss Snooks arrived at VRCC Veterinary Referrals in Essex last month.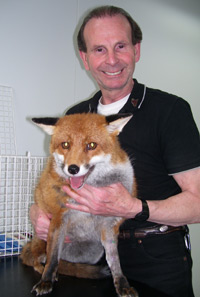 The nine year-old female red fox was brought in suffering with a soft tissue sarcoma on her left foreleg that required urgent intervention.
Mr Benoit said: "Before I came to VRCC a couple of years ago I had dealt with a lot of different animals, but I must admit a fox was a first for me.
"The animal had a soft tissue sarcoma on the left foreleg that had been removed by a local vet but then came back. It had got to the point where no more surgery could be done, leaving radiation therapy as the only option and I am pleased to say that treatment has gone well so far."
However, VRCC does not have a policy of administering costly cancer treatments to wild animals. Miss Snooks is lucky enough to have someone picking up the bill.
Abandoned as a cub when only a few days old, she was taken in by Steve and Nola Edgington of Hassocks Pet Centre in West Sussex.
Mr Benoit said: "She is now four sessions into a six-week course and the sarcoma has reduced to a third of the original size. This should mean the tumour should be back under control for another eight to ten months."
He added: "When the six treatments are over it may be an option to remove what is left to get some more long term control, but we will have to discuss that once the treatment is over."