Vets are being urged to take redundant IT equipment to the London Vet Show so it can be repurposed for African vets as part of the African Small Companion Animal Nework (AFSCAN) project.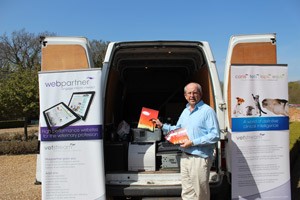 One of the companies behind the initiative to give vets in Africa online access to the latest CPD and point of care information is Vetstream, a provider of digital clinical resources to the veterinary profession.
The company has already donated more than 40 items of IT equipment, including desktop PCs, laptops and monitors to Computers 4 Africa.
Through the AFSCAN project, Vetstream is working with the charity to bring more than 150 African veterinary practices online in five sub-Saharan countries by the end of 2015.
CloserStill Media, organiser of the London Vet Show, donated a free stand to the UK-based charity Computers 4 Africa, which prepares the equipment for its new role and ships it out to Africa.
Called "Distance Learning for Colleagues in Africa", the project is also sponsored by global veterinary supplier KRUUSE.
Managing director of Vetstream, Mark Johnston said: "These days we replace IT equipment so often that it is amazing how quickly a large pile of redundant equipment can build up.
"Rather than letting it clutter up your office or throwing it away, this equipment can now be repurposed for vets in Africa who really need it.
"The team at Computers 4 Africa data-wipe PCs and refurbish them before installing software and browsers and shipping them to Africa for use by veterinarians in the AFSCAN-participating countries."
Companies or practices wishing to help are asked to bring equipment to Computers 4 Africa's stand at the London Vet Show.