A cat covered in oil and abandoned is on the road to recovery after receiving veterinary treatment.
A member of the public discovered the tacky tabby, named Kimmie, in a carrier in a Homebase car park in East Acton and took her to The Mayhew Animal Home in London, where the vet team got to work.
Possible intoxication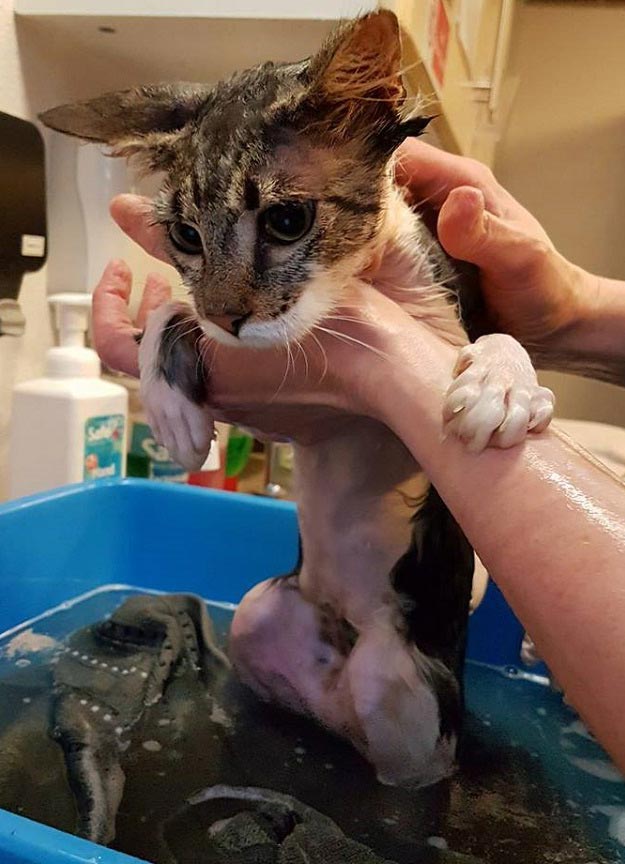 Head vet Ursula Goetz said: "Poor Kimmie was in a bad way – it looked like she had been lying in engine oil, was unsteady on her feet and very underweight. Her whole body was also twitching, which we thought might have been caused by the intoxication of the oil when she tried to lick herself clean.
"The oil covered most of her stomach to the extent she could not move her hind legs freely as it was sticking so tightly to the wounds caused by the oil on her tummy.
"She had to be sedated so we could clip and clean her carefully. We delicately eased the sticky fur out of her wounds, freeing her hind legs, so she was able to move and stand again.
"The skin underneath her stomach was covered in red raw wounds, so we put her on pain relief before she woke up again to ensure she was comfortable while she recovered."
'More confident day by day'
Mrs Goetz continued: "After she was fully bathed and cleaned, we took blood and urine tests, and gave her fluids.
"During the thorough health check, we discovered Kimmie had also developed ulcers in her mouth, most likely caused from the oil she had been cleaning off herself.
"She was on several different treatments, but it was a joy to see her become cheekier and more confident day by day.
"We continued to bathe and clean her wounds to make sure the skin underneath her stomach healed properly. It took over a month for her to fully recover."
Kimmie has since been rehomed and renamed Pepsi.