Russell Vanhinsbergh is sopassionate about animals and exercise that he is urging people to diveinto action and join him in the WSPA London Triathlon team.
Mr Vanhinsbergh (19) from King's Lynn, Norfolk, will be raising money for the World Society for the Protection of Animals (WSPA) in the Mazda London Triathlon, which will take place over two days on August 1-2.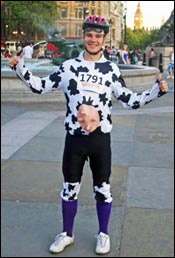 The Triathlon consists of swimming, cycling and running. Athletes have to learn to compete in each stage in a way that preserves their energy and endurance for subsequent stages of the race. There are three levels to choose from: Super Sprint, Sprint and Olympics. Sprint and Olympic participants can be part of a team or enter as an individual; Super Sprint is for individuals only.
Mr Vanhinsbergh, a first year student studying Veterinary medicine at the RVC in London said: "Being a veterinary student, the welfare and protection of animals is close to my heart. So, when I realised that the World Society for the Protection of Animals were looking for volunteers to take part in the triathlon, I thought it was a golden opportunity for me to give something back to the animals we all love.
"I have always been someone who enjoys a challenge and this combined with the opportunity to offer some help to a cause which I am passionate about, is too good to miss."
Mr Vanhinsbergh said he was particularly interested in WSPA's work with farm animals: "Having studied and worked on farms I find this area of your work of most interest, as I believe that there is massive room for improvement in welfare standards for these animals. I feel we need to help these animals that are currently living in intensive factory farms giving them a poor quality of life simply for our own indulgence."
If you are interested in joining the WSPA London Triathlon team please contact Jane Rockliffe on 0800 316 9772 or email fundraising@wspa.org.uk . WSPA ask for a non-refundable deposit of £75 and a minimum sponsorship target of £500, in return the charity will provide fundraising support and a WSPA running vest.
For more information on WSPA's work please visit www.wspa.org.uk