The 2017 edition of the NOAH Compendium of Data Sheets for Animal Medicines is now available.
A free copy of the book will be posted to every veterinary practice in the UK.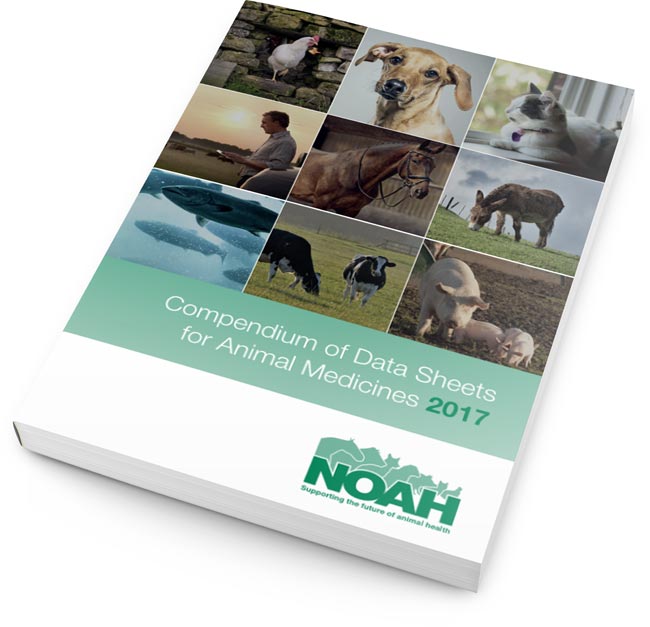 Available online
The compendium is also available online and was launched as a smartphone app in November 2016. A special edition of the book for SQPs, commissioned by the Animal Medicines Training Regulatory Authority, will be also available shortly.
The book includes the latest edition of NOAH's Code of Practice for the Promotion of Animal Medicines.
NOAH chief executive Dawn Howard said: "The NOAH compendium, in all its formats, is a major part of NOAH's efforts to assist the appropriate and responsible use of all animal medicines."
Vital resources
She explained: "Every NOAH member, as well as the non-member participants in the NOAH compendium, is a signatory to the NOAH code of practice on promotion, which demonstrates his or her commitment to operate above and beyond any regulatory requirements.
"As well as product data sheets, the compendium includes another vital resource – the contact details for each participating company.
"Company veterinary and technical advisors have detailed knowledge about their company's medicines. They are ready to talk to prescribers about the use of a medicine in a particular animal or in a particular situation, as well as explain any queries about the data sheet."
Extra copies
If your practice has not yet received its copy of the compendium – perhaps because you are a new practice, or have changed address in the past year – email Amy Davis at NOAH (a.davis@noah.co.uk).
Extra copies are also available to order for £45 each, although special prices are available for bulk orders.