Nicola Rigby, a final-year veterinary science student at the University of Liverpool, has been announced as the winner of the inaugural Dechra Veterinary Products Dermatology Prize.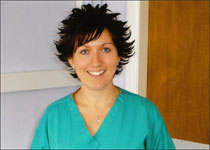 The title is awarded to the student who displays the greatest aptitude for veterinary dermatology. Nicola impressed with her performance in both the dermatology clinical rotation and elective modules, consistently showing clinical skill, subject knowledge and acumen. Her tutors also praised her positive personality traits.
Dechra Veterinary Products was keen to provide a prize which would be of real value to the winner, and Nicola expressed her delight at receiving £450 of high street shopping vouchers, saying; "I am so pleased with this award, especially as dermatology is a subject I have a particular interest in. I'm very happy that my enthusiasm has paid off, and am looking forward to continuing to develop my skills now that I am in practice".
She has since graduated BVSc with distinction, and has joined Maple Veterinary Centre in Cheshire – a small animal practice where she has already had the opportunity to work on some interesting dermatology cases.
Tim Nuttall, a senior lecturer in veterinary dermatology at the University of Liverpool School of Veterinary Science, was part of the team that chose Nicola as the winner. He said: "We had three outstanding candidates for this prize and, after much discussion, we awarded it to Nicola for her overall clinical ability, hard work, and obvious enthusiasm for the subject. We are very grateful to Dechra for providing this prize, which highlights the importance of dermatology, and is an excellent way to reward students who have worked hard to excel in this field."
Following the positive reaction to the introduction of the Dechra Veterinary Products Dermatology Prize at the University of Liverpool in 2009, next year will see an additional prize going to a student at the University of Bristol.