Tree of Life for Animals has a revamped website and wants YOU to volunteer at its small animal hospital…
VN-founded charity Tree of Life for Animals (TOLFA) has re-launched its website and is calling for nurses to help volunteer throughout 2013.
The new TOLFA site features background about the charity, videos showing its work and information about volunteering at the organisation's animal hospital in India.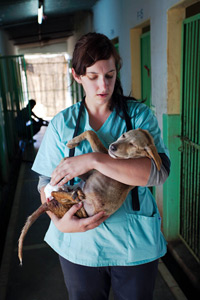 According to TOLFA's UK manager Kym Barratt: "Everything on there is new. We've completely re-written the site from scratch, it's got new sections, interactive screens etc. The old site was very old-fashioned and didn't really offer all the bits we wanted.
"We're also in the process of taking the volunteering process online, with forms going up on the site soon."
TOLFA was created in 2005 by VN Rachel Wright, who began work on a small animal hospital in the Rajasthan area of northern India. The charity now runs an ongoing rabies vaccination project for the area's stray dog population, as well as providing rescue housing and veterinary treatment for a variety of small animals in need of care.
"TOLFA's work is going incredibly well," Kym added.
"Our animal hospital is pretty much as we envisioned and we've now got kennels, a cattery, a quarantine and an education centre. The charity is really going from strength-to-strength."
Calling on any interested nurses to get in touch, she said: "Vets and VNs make up about 70 per cent of our volunteers and we're hoping to get more and more VNs involved – our head of recruitment, who is also an RVN, just loves getting nurses in because they always hit the ground running."
To find out more about TOLFA and how to volunteer or donate, visit its new wesbite here.