A recently published research paper shows Animal Health Trust strangles test to be more sensitive and specific than IDvet test.
New research conducted by the Animal Health Trust (AHT) has confirmed its strangles blood test is significantly more accurate for measuring a horse's immune response than it's nearest rival.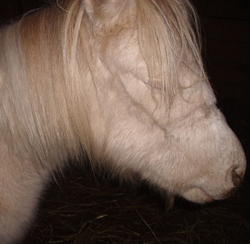 The research, detailed in a recently published paper titled: "Combining two serological assays optimises sensitivity and specificity for the identification of Streptococcus equi subspecies equi exposure", compared the effectiveness of the SeM-based blood test marketed by IDvet, with the test developed by the AHT.
Both tests aim to detect anti-Streptococcus equi antibodies to assist with the identification of apparently healthy, yet persistently infected carriers of strangles. Although further tests are required to confirm that the horse is infectious, the immune response test is an important first stage in the detection and treatment of strangles.
Andrew Waller, head of bacteriology at the AHT, said: "The AHT's blood test for strangles enables vets to be more confident in identifying horses that may be infected with Streptococcus equi.
"Seropositive horses that are subsequently confirmed as infected with Streptococcus equi can be treated, the infection eradicated and future outbreaks prevented. Although these are new results, we have been using this blood test in the UK since 2008 and know that it works – it really does lower the risk of strangles reoccurring."
The research used 89 positive samples from UK outbreaks where horses had been confirmed as infected with Streptococcus equi, and compared them with 129 negative samples from Icelandic resident horses. As there have been no horse imports in Iceland for 1,000 years, the horse population in the country is free from strangles, providing an ideal sample set.
Results showed the AHT test was 93.3% sensitive and 99.3% specific, while the IDvet test was 89.9% sensitive and 77.0% specific.
Strangles remains the most frequently diagnosed, infectious disease in horses worldwide, with more than 600 outbreaks identified each year in the UK alone.