Neil Smith, who is head of the Royal Army Veterinary Corps as well as the Queen's honorary veterinary surgeon, took up his position at RCVS Day.
The new president of the Royal College of Veterinary Surgeons (RCVS) has officially begun his presidential year.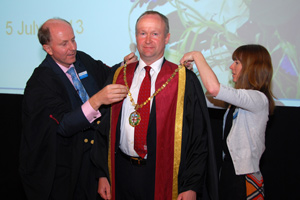 Neil Smith, who is effectively the chief veterinary officer of the army, was inaugurated at RCVS Day on July 5 (2013) at the Royal College of Physicians, London.
Col Smith – who has masters degrees in food science, defence administration and defence studies – graduated from the RVC in 1989, and was commissioned into the Royal Army Veterinary Corps (RAVC). He has held a mixture of clinical, staff and command positions, and has worked in many places throughout the world.
He is the director of Army Veterinary and Remount Services and head of the RAVC, which has more than 35 veterinary officers as well as 350 soldiers. He also holds an appointment from the Queen as her honorary veterinary surgeon.
Col Smith has worked part-time in small animal practice (including the Blue Cross, of which he is now a trustee), and was heavily involved in the foot-and-mouth outbreak in 2001.
 
First elected to council in 2004, Col Smith was re-elected in 2010 after a short break. He has served on education, advisory, preliminary investigation, and planning and resources committees, and on the veterinary nurses council.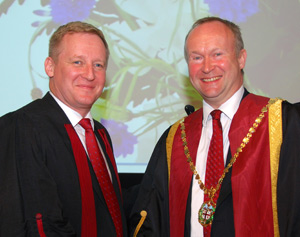 Col Smith praised outgoing president Jacqui Molyneux for her "knowledge and determination" over the year, saying: "I would like thank Jacqui for guiding us through a busy and challenging year of significant organisational change. She has been an approachable and down-to-earth president."
 
He also looked forward to his year in office, commenting on the new strategic plan that is under development, and saying: "I look forward to playing my part in taking the college into the next phase of its evolution and I am encouraged by the appetite for change shown by my fellow council members – and indeed the profession at large."
 
At the event, Jerry Davies stood down as vice-president, with outgoing Mrs Molyneux thanking him for his "steadfastness" and support.
 
Mrs Molyneux became vice-president, Stuart Reid of the RVC took up the role of the second vice-president, and Bradley Viner was reconfirmed as treasurer.