The practical stage of a major new research project looking atwelfare-friendly alternatives to the farrowing crate has just commenced with the building and evaluation of prototype designs.
Funded by DEFRA, and costing a total of £690,000 over three years, it will be carried out by staff at Newcastle University and SAC Edinburgh under the guidance of Professors Sandra Edwards and Alistair Lawrence, respectively.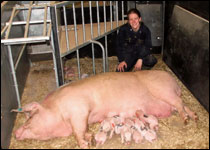 The study will involve one basic prototype layout with four different combinations of design and management and will entail 200 farrowings in the first development phase. A further 300 farrowings will be monitored in the second phase, when the prototype will be compared with standard crate systems on both research farms.
Suffolk equipment manufacturer G E Baker Ltd (Quality Equipment) gave advice on the practicalities of construction and materials and built the prototypes.
The basic design involves a free access 'nest' area, a dunging area and a lockable feeding stall. The nest incorporates particular features such as sloping walls, to help control sow lying behaviour, and a heated creep area, and has been newly built at SAC Edinburgh.
Professor Edwards said: "Confinement of the sow is of continuing welfare concern to the general public. While the farrowing crate offers many benefits in management and welfare to the newborn piglet, it does cause welfare problems for the sow around the time of farrowing. It is increasingly apparent that consumers want a less restrictive alternative and some major retailers are already specifying this in purchasing contracts."
Prof Edwards pointed out that the EU has discussed future legislation on this issue. Such laws have already been passed in Switzerland and some Scandinavian countries.
She said: "Our aim is to provide a commercially-viable alternative for indoor producers which will be acceptable in terms of piglet survival, capital cost and ease of management. If we can achieve this 'cost-neutral' option producers could then meet market demand without incurring production penalties."
It is planned to scale-up the best system and test this on commercial farms against conventional farrowing crates.