Industry stalwart Paul Jepson takes over from Keith Chandler as new head of the British Equine Veterinary Association.
Industry stalwart Paul Jepson has been named as the new head of the British Equine Veterinary Association (BEVA).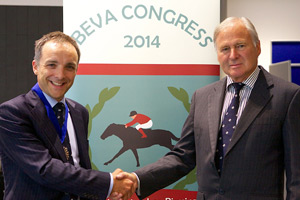 Brig Jepson took over from outgoing president Keith Chandler during a ceremony at the association's annual congress on September 14, 2013.
Previously, he worked as chief executive of the Horse Trust from 1997 to 2010. Brig Jepson now works as a private veterinary consultant in the New Forest and serves on the cross-industry equine industry core group on exotic diseases, is chairman of the committee responsible for delivery of the GB Equine Health and Welfare Strategy, and is a member of the National Equine Forum committee.
He said: "BEVA is a cornerstone of the newly created Equine Sector Council for Health and Welfare, which brings together the diverse interests of the equine industry to work with Government in protecting our horses and an industry worth an estimated £7b to the UK economy.
"BEVA is a recognised world leader in promoting the highest standards of equine health and welfare, scientific excellence and education. BEVA really makes a difference and it is an honour to be president."   
Alongside Brig Jepson's appointment, Three Counties Equine Clinic partner Andrew Harrison becomes BEVA president elect and Mark Bowen becomes junior vice-president.