Chris Lawrence MBE appointed as president of the British Veterinary Behaviour Association, formerly known as the Companion Animal Behaviour Therapy Study Group.
The British Veterinary Behaviour Association (BVBA) has announced the appointment of Chris Lawrence MBE as president.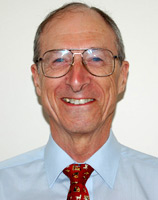 Presidency of the association – formerly the Companion Animal Behaviour Therapy Study Group – was previously held by Des Thompson OBE, who said he was "delighted to be able to step down from the role and relax in the knowledge that the BVBA would further flourish under Chris' guidance".
Established more than 20 years ago, the BVBA is a study group that provides education for anyone working in or affiliated with the field of companion animal behaviour. It exists to facilitate the exchange of information, experiences and ideas between its members.
A spokesman said: "We try to promote a greater understanding of the behaviour problems in companion animals. We are an inclusive group, with members representing veterinarians, academics, behaviourists, trainers, pet charity workers and students.
"The more we know about and can influence companion animal behaviour for the better, the more benefit there is for the animals themselves, their owners and the whole community."
As an affiliate of the British Small Animal Veterinary Association (BSAVA), the BVBA is also involved in producing educational materials and lectures for the veterinary and related professions.