Welsh vet Peter Harlech Jones has been officially elected as the new president for the BVA, following the association's annual congress at the end of last week. Mr Jones will be president for the 2012/13 period.
Welsh vet Peter Harlech Jones has been elected as president of the BVA for 2012/13.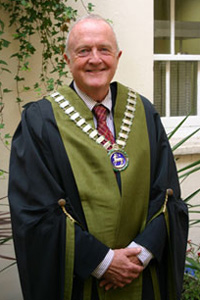 Mr Jones was inaugurated during the annual meeting at the close of BVA's annual congress in the Merseyside Maritime Museum in Liverpool at the end of last week (September 27-29, 2012).
 
Mr Jones, an international consultant on veterinary medicines, qualified from the University of Liverpool Veterinary School in 1971 and after several years in practice in Wales and London – plus a spell in Ontario, Canada – joined the pharmaceutical industry, where he spent 20 years working in research and development and regulatory affairs.
 
In 1995, Mr Jones was appointed the first head of the veterinary division at the European Medicines Evaluation Agency in London, while his last post before semi-retirement in 2008 was as head of the International Federation of Animal Health.
 
Within the BVA, Mr Jones has served on the veterinary policy group and the Medicines Group. He participates in the work of the Federation of Veterinarians of Europe and acts as a consultant to GALVmed.
 
Commenting on his election, Mr Jones, said: "My background is in pharma research and international regulatory affairs and I am confident that my experience will be useful as we anticipate the new EU Animal Health Law and medicines legislation. But I am driven to do much more for the veterinary profession than just in those fields.
 
"The word 'value' really began to resonate for me when I started thinking of my theme for the year ahead as president of BVA.
 
"In whatever role we play, vets are adding value in so many areas of our professional lives to society at large in a huge and significant contribution to the public good. I firmly believe that we, as an association and as a profession, must use every opportunity to reinforce the message about the value we give in all aspects of our work, and to believe in ourselves."
 
The BVA officer team for 2012/13 is Peter Harlech Jones (president), Carl Padgett (past-president), and Robin Hargreaves (president-elect).