The BVA Northern Ireland Branch elected Seamus O'Kane as its new president at its AGM, held at White River House Hotel, Toome, on 27 January.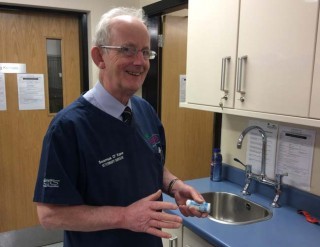 After serving a year as junior vice-president, Dr O'Kane succeeds Simon Doherty as president and performs his official duties in tandem with his job as consultant at a mixed veterinary practice in Dungannon.
A strong voice for vets
Dr O'Kane said: "I am honoured to be elected as the president of BVA NI Branch. I look forward to working with the BVA branch team and veterinary colleagues throughout Northern Ireland to provide a strong voice for vets that best represents their views and ensures the veterinary profession continues to be seen as a relevant, valued and effective body which can be called upon to maintain high standards in animal health, welfare and disease eradication."
'Exemplary advocate'
BVA president Sean Wensley said: "I am delighted to welcome Seamus as president and I know he will bring knowledge and passion to his role and be an exemplary advocate for the profession in Northern Ireland.
"The work of BVA's branches is invaluable in safeguarding animal welfare and representing the veterinary profession in the devolved nations, where animal health and welfare are the responsibility of the individual nation.
"Northern Ireland's vets have achieved landmark achievements in the last few years, such as the country's official brucellosis free status, and I know Seamus will continue this successful close working with Government, industry, farmers, frontline vets and other partners."