Guest speaker Steve Backshall is having to withdraw his commitment toattend the BVNA Congress this year, as the BBC have extended his filming trip in Costa Rica until October 11.
BVNA are extremely disappointed at this news as Steve was unable to attend last year due to a climbing accident.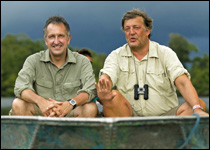 However BVNA is delighted to announce that Mark Carwardine, a zoologist and presenter on BBC2's current series Last Chance to See with Stephen Fry, will be attending in Steve's absence.
Mark is a well-known radio broadcaster and presented Radio 4's Nature, as well as the radio version of Last Chance to See. He is an expert contributor on numerous environmental and wildlife programmes and has been interviewed and reported for many others including Countryfile and Inside Out.
Mark has published more than 50 books and for many years wrote monthly columns for BBC Wildlife and Wanderlust magazines. His widely acclaimed photography is used throughout the world and he is into his fifth year of chairing the panel for the prestigious Wildlife Photographer of the Year competition.
You can see Last Chance to See every Sunday on BBC2 until October 11.