The new presidential officer team was elected at the AGM of the British Veterinary Association yesterday (September 27), including Bill Reilly, who was voted in as president for 2009/2010.
The ceremony took place during the Annual General Meeting of the BVA at the close of its annual congress in Cardiff.
In his inaugural speech Professor Reilly said: "I'm a BVA person through and through and to be asked to represent the BVA as president is to me the greatest honour and I hope that my background in public health will bring a different perspective to the team.
"I see my election as a clear statement of recognition that the profession is multi-faceted and committed to 'public good'. The idea of veterinary surgeons and the public good is one of enormous significance and it will form my theme for the year.
"My other goal for the year is to re-establish vets as the leading voice on animal welfare. Vets are often overlooked in the welfare field and so we need to seize the opportunity to make our voices heard on the issues we care about."
Ending her tenure as BVA president, Nicky Paull remainedpart of the BVA Officer team and became immediate past-president ofthe association.
Completing the officer team was Harvey Locke, a small animal practitioner from Stockport, who was voted in as president-elect.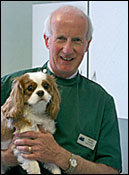 Mr Locke said: "I feel this is the perfect opportunity to give something back to the profession that has given me so much reward and enjoyment over the last 40 years. The profession is changing rapidly presenting challenges that we would never have dreamed of even ten years ago let alone 40 years ago.
"What impresses me about the BVA is how it is reacting and facing up to those changes, not only dealing with the daily challenges facing the practitioner, but also being at the forefront of issues involving animal health and welfare and, more increasingly, issues relating to human health. I am proud and honoured to become part of the BVA Officer team."