Experimental data indicates that stem cells may support healing of meniscal tissue in the stifle as well as in tendons and ligaments of horses.
The initial research, which is being carried out by Roger Smith from the Royal Veterinary College, is encouraging UK vets to explore the option of using stem cells to treat equine intra-synovial soft tissue injuries.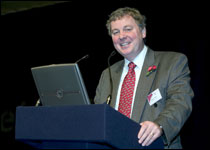 According to Professor Smith, healing of intra-synovial soft tissue injuries is frustratingly poor in the horse with a 6 per cent prognosis for Grade III meniscal tears and 18 per cent prognosis for long tears of the deep digital flexor tendon within the digital flexor tendon sheath. At present, the gold standard is arthroscopic debridement of the damaged areas but vets have not previously been able to augment the subsequent phases of tissue repair. It is hoped that stem cells would have the capacity to assist with this aspect.
The most appropriate intra-synovial cases for stem cell treatment would be synovial cavities containing soft tissue pathology. These would include grade III/IV meniscal tears with a stable stifle or tendon tears within a tendon sheath or bursa such as deep digital flexor tendon tears in the digital sheath or navicular bursa.
Professor Smith said: "While there is currently no definitive evidence to support the use of stem cells to treat these injuries, there is a logical rationale behind the technique and it may improve these horses' chances of a full recovery."
A number of cases have been treated intra-synovially using VetCell's stem cell service, which has enabled recommendations to be made as to how these cells might be used to best effect.
Stem cell therapy currently offers a good prognosis for the repair of certain types of equine tendon and ligament injuries. The technique involves implanting millions of the patient's own stem cells and autologous growth factors directly into the injured tendon or ligament.
Levels of success have generated considerable interest from the human sector and trials in human medicine, for the treatment of Achilles tendinopathies, should be commencing later this year.