Warning comes after a hard winter and late spring, which has created an "ideal environment" for the parasite. Conditions have also been made worse by a lack of grass growth on some farms.
Vets and farmers have been warned that lambs are at a high risk of infection from Nematodirus this summer as the hard winter and late spring has created an "ideal environment" for the parasite.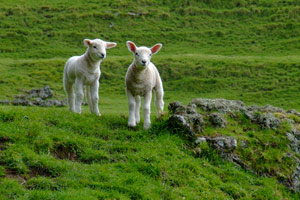 Conditions have also been made worse by the shortage of grass at some farms.
Fiona Anderson, a vet with Novartis Animal Health, said: "Some farmers are concerned that the lack of grazing will have affected the condition of their ewes and this in turn will weaken resistance to illness in lambs.
 
"The risk of Nematodirus is high at present because of cold spells followed by warmer weather, and the grazing issue is compounding this."
Farmers are being encouraged to anticipate the parasite, which strikes quickly and has a high rate of mortality. Matt Blyth, who manages 1,200 ewes in Midhurst, West Sussex, said: "Because of the hard winter and lack of grass we are turning the ewes out on to fields that have as much grass as when we would usually take them off. We are looking at about 4.5cm in length. As a result, they are not milking so hard, so we are having to put the lambs out to grass earlier as well.
"The grass they are grazing is low and wet, so after a warm spell they are likely to pick up a larger worm burden than usual.
"Another factor is that with less milk, the lambs' immune systems are not as good as they should be. We have tried to hold them in to let the grass grow as much as possible, but it's wet enough and warm enough for a high burden to appear."
Worming action group the Sustainable Control of Parasites in Sheep (SCOPS) recommends the use of a white drench, and advises farmers to act if they think their lambs are at risk. SCOPS also says faecal egg counting cannot be relied on, as the damage is done by immature larvae.
Helen Langham from Novartis said: "Farmers should seek guidance from their vet or animal health advisors if they suspect their lambs are at risk from Nematodirus and should follow SCOPS guidelines in the treatment of their animals."
For more information on SCOPS' guidelines, visit its website.