The National Equine Forum (NEF) organising committee will pay tribute to its former vice-chairman and honorary fellow Richard Matson at its annual event next month.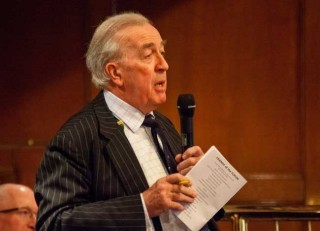 Founder of Twemlows Stud Farm – one of the UK's leading AI and embryo transfer centres – and an influential figure in the equestrian world, Mr Matson was vice-chairman of the NEF for 21 years.
Following his retirement in 2014, he was one of the first to be awarded honorary fellowship of the NEF last year. He died in December 2015 following a short illness.
Persistence and charm
Former NEF convener Graham Suggett said: "It has been my privilege to have worked with Richard on many initiatives in both the farming and equine industries over a long period of time. He was a man who knew his mind and was not frightened to speak out on matters in which he believed."
NEF chairman Tim Brigstocke said: "Without the huge input Richard Matson gave as vice-chairman to the NEF, the now well-established annual gathering for anyone involved in the horse world would not have happened.
"Richard, along with the other forum founders, had the foresight and wisdom to see the need for such a gathering. Through sheer persistence and huge charm, Richard remained a stalwart of the NEF until he stood down from the organising committee a couple of years ago.
"He continued to maintain his interest in the forum and always could be relied on to help or sort out issues. He will be sorely missed."
Posthumous award
Mr Matson's sons Edward and Tullis recently accepted the South Essex Insurance Brokers Meritoire award for lifelong achievement in british breeding on behalf of their father.
This year's NEF, to be held on 3 March at the Institution of Mechanical Engineers in London, will include a celebration of Mr Matson's significant contribution to equestrianism.