As spring temperatures hit 15°C , the need to vaccinate against bluetongue is now critical, said Welsh CVO Christianne Glossop in a warning to the livestock industry in Wales.
The rise in temperature triggers midge activity and the ability of the bluetongue virus to multiply. The recognised key temperature is 15 degrees celsius, which is the level that enables the virus to replicate.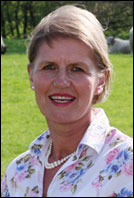 Dr Glossop said: "While in Wales we were lucky to have some of the best Easter weather I can remember, the mild conditions are perfect for bringing out midges and allowing the bluetongue virus to flourish.
"All susceptible animals are under increasing risk of infection, including those farmed in upland areas. We have heard upland farmers assuming their animals are not at risk, but they should not be complacent. It is entirely possible that there are areas within every locality where the midge which carries the virus can flourish.
"We have also heard of farmers saying they will vaccinate if and when the disease is found closer to their own farm. I would remind these farmers that it takes three weeks after a completed course of vaccine (one dose for sheep, two for cattle) for an animal to have optimal immunity.
"The only sensible course of action, to protect the farming industry of Wales and prevent bluetongue from becoming endemic to this country, is to vaccinate now.
"Vaccine is available now from the stocks made available by the Welsh Assembly Government. Due to the disappointingly low uptake of the vaccine, stocks will not be underwritten by Government next year. This could affect the price of vaccine once existing stocks pass their expiry date, so it makes financial sense to buy now at a guaranteed low price."