Insurer's pet division donates £120,000 to charity, and from mid-July, will donate 50p for every new pet policy sold. More Than says it is "excited" to help the society.
More Than Pet Insurance has named the Royal Society for the Prevention of Cruelty to Animals (RSPCA) as its official charity – and has marked the partnership with a whopping donation of £120,000.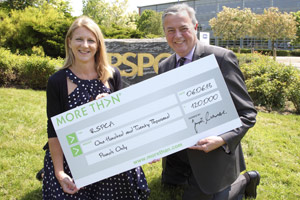 The partnership, which will last for five years, will, says both organisations, see all charitable money raised by the insurer's pet division through fund-raising and volunteer work go directly to the society. Kicking this off, from mid-July (2013), a donation of 50p will be made for every new pet insurance policy sold.
Janet Connor, managing director of More Than, said the company was "excited" to get the partnership up and running.
"Each year, the RSPCA does an exceptional job investigating more than 150,000 complaints of animal cruelty and neglect, as well as re-homing more than 55,000 animals," she said. "Encouraging responsible pet ownership is very important to us and by working with the RSPCA we can help them continue the fantastic work they do.
"Our colleagues from our UK offices are excited about helping the charity through volunteer work and fund-raising and we look forward to working together over the next few years."
Meanwhile, Gavin Grant, RSPCA chief executive, said the charity was "delighted" by the new partnership.
"The RSPCA does far more than people know to help animals in trouble," he said. "Most people love their pets and want to look after them properly. But for those animals that are not so fortunate, More Than's generous support will help the RSPCA to look out for them."